6×14 Cargo Trailer Camper Conversion – On a Budget – New Mobile Office – Rolling Thunder
Hi All,
I ordered a 6×14 cargo trailer with 72 inch extended tongue and electric brakes to do a cargo trailer conversion.  Will be used as a mobile mini office / camper/ gallery, called  Rolling Thunder or Roaring Thunder.
Thought I would start my build blog here to share some of what I have in mind that might help others as well with a list of my resources.
For years it has been about weight and what we can pull with our SUV.  Not wanting to get a big gas guzzler for a pull vehicle or new car payment we started off with a pop up.  We loved the pop up, very cozy but I hated the setup. Plus I wanted something to be able to pull over to eat, sleep or edit.  So the next big idea was a DIY teardrop.
I was soooo excited to build a teardrop but was afraid it would not turn out as well as I like.  Plus for my needs it was just a little too small. Was close to buying a harbor freight trailer when they recalled the tires.  So happy I did not and know this is the right direction for us to go.
Trying to find something light, secure that will last, ended up deciding on a Cargo Trailer Camper Conversion.  I like the fact that they are built with 15 inch tires and can be pulled at faster speeds.  I keep it just under 65 very comfortable pull.  The smaller DIY Teardrop trailers have a rating of 45 MPH, mostly for insurance purposes.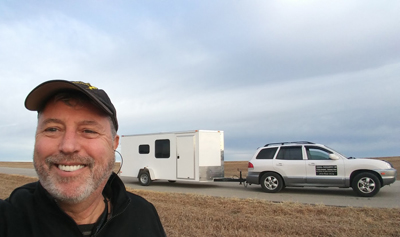 There was a time when a large trailer with pullouts and bells and whistles was a dream. Now it is mostly keep it simple that will last for years. Cargo camper trailer, teardrops and tiny trailers are a BIG GROWING Trend.  One of the teardrop trailers we looked at in Denver if you ordered one it would not be ready from almost a year from order date.  Crazy!
6×14 was as large as I could pull with a six 2.7 engine,  2700-3300lbs pull cap on our 2005 Hyundai Santa Fe TV .  The weight on the empty trailer comes in at 1600 lbs and has brakes.  Love the brakes. Pulls great.
Plan to try and keep the added weight to 550lbs.  Shooting for 2200lbs total.  The BIG test will be going up and down the canyons here in CO.  Wheels are on the outside of the box so seems to make more stable and easy to see around too.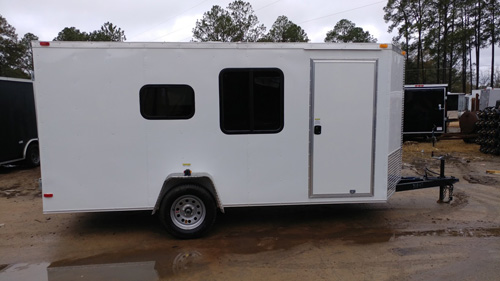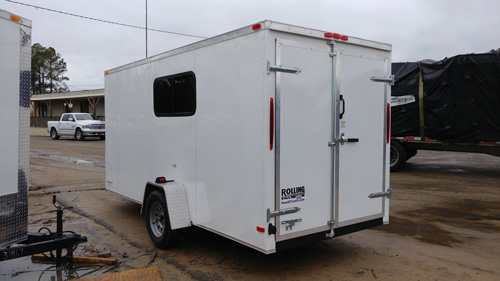 We are on a tight budget so cost was a big factor.  If you can afford something like a Wells Cargo, I say go for it.   There are a ton of Cargo trailer companies.
Ordered and picked up the Cargo Trailer direct from factory in Pearson GA.  South Georgia Cargo is the factory name.  Sold by Plain Ol Trailers, Their site is makemytrailer.com .  The prices are good and it was easy to plan out using their site.   After lots of research we knew what we were getting into.
I dealt with Barny and he gave his personal number and was great to work with.   The trailer was custom made to order quickly so off I went from Colorado to Georgia and Back again.
"Google Maps NO highways or Tolls I LOVE YOU!"  Took direct route on the way there and it was crazy going through KC, St Louis and Atlanta and this was on the weekend.  Longer drive on the way back but I did not hit any traffic or major cities.  THANK YOU GOOGLE!
Great road trip, trailer pulled fantastic.  Trailer is solid and when you buy from any GA builder you really have to look them over well.  I found some missing screws that they fixed right away.   It was not until I got to LA… lower Alabama that I realized they did not put the paid for window in the door.  And that's another story.   Anywho, Barney  got back to me right away and is sending a window and said they would pay for install.  So they are doing the right thing. So I will still recommend them. ( will update if window does not come in.)
A very BIG THANK YOU to Iconfabul8 @ tnttt.com for helping me with the sketch for window placement.
So now the fun begins.  Need to tax, title and register this week.  Not looking forward to the cost there.
Next, to keep weight down I am going to sand, Golden Oak stain and polyurethane the plywood on the walls and floor.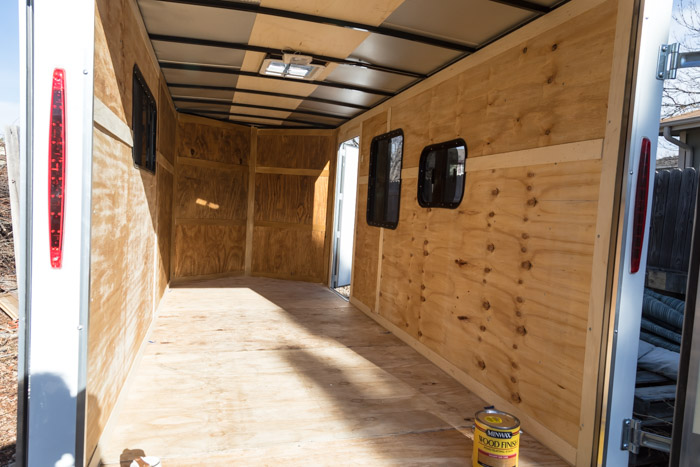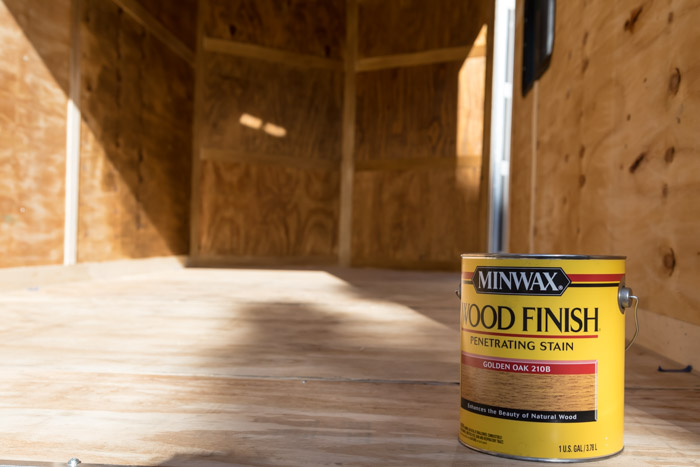 Below is after staining.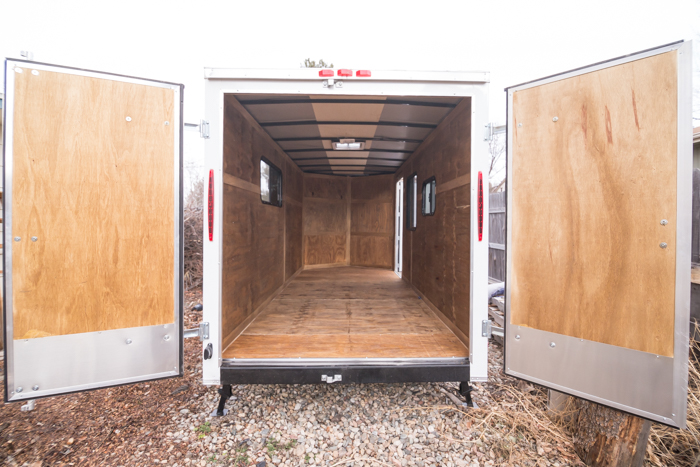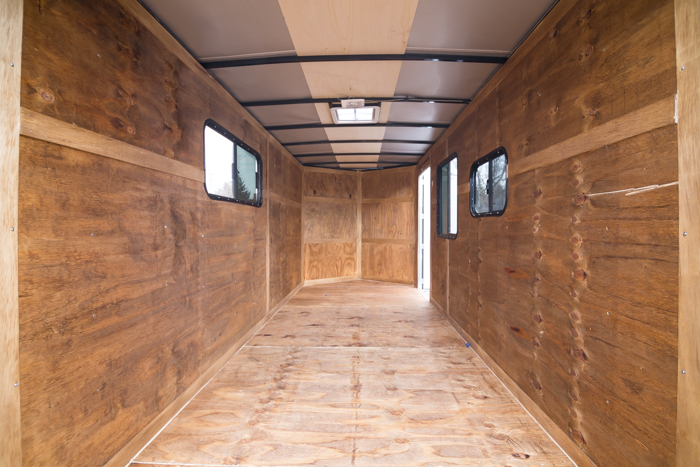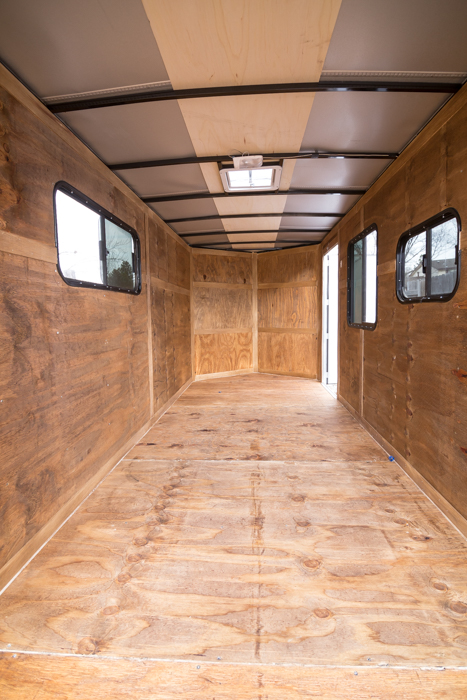 A rustic look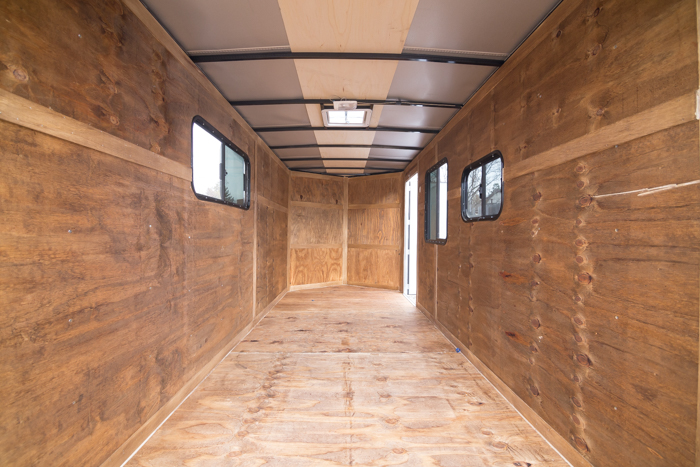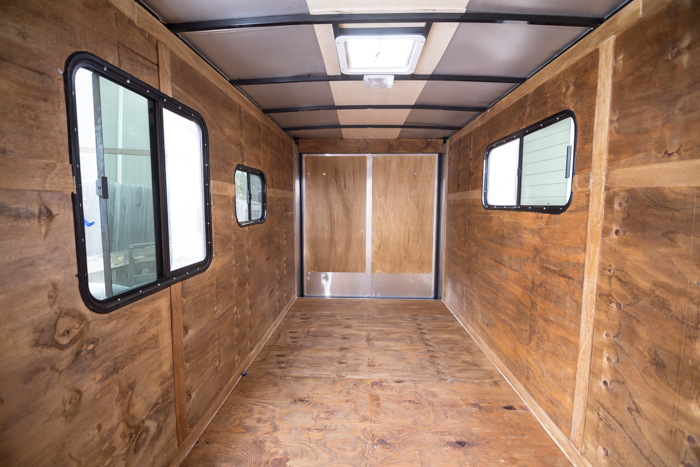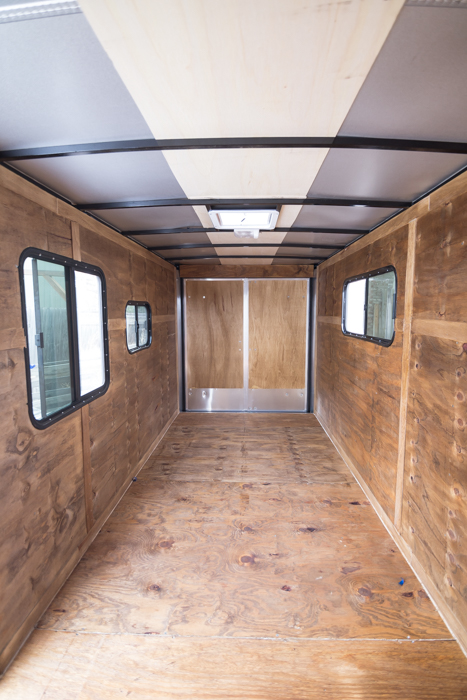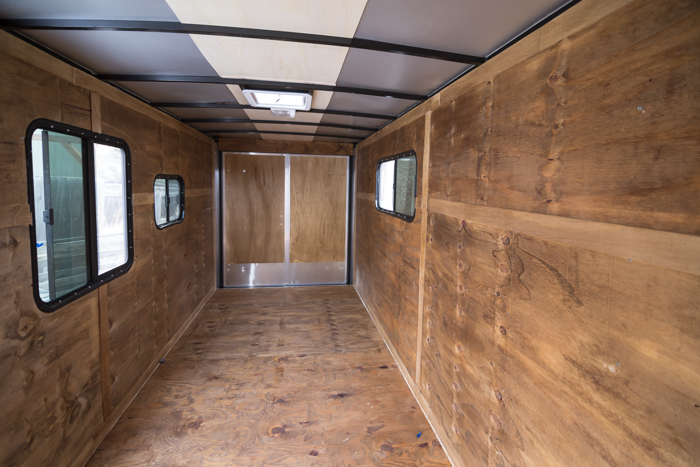 Small Light weight cabinets will be covering most of the walls so I may only skin in exposed places with barnwood paneling.
Thinking about making cabinets with this as well hoping it is thick enough if not then the birch for cabinets and the paneling for accent.   I guess I am going to have to take some cabinet making classes.
Hoping these will work below. Cool looking NEW products.
Home depot Authentic Pallet 32 sq. ft. MDF Paneling 20lbs a sheet 4×8.  https://www.homedepot.com/p/Authentic-Pallet-32-sq-ft-MDF-Paneling-169822/302944322 $18.95
Lowes – 48-in x 8-ft Smooth Weathered Barnboard MDF Wall Panel – 20lbs https://www.lowes.com/pd/48-in-x-8-ft-Smooth-Weathered-Barnboard-MDF-Wall-Panel/1000065005 $16.95
Lowes Revolution Ply 5mm Poplar Plywood, Application as 4 x 8  – $14.95 – https://www.lowes.com/pd/RevolutionPly-5mm-Poplar-Plywood-Application-as-4-x-8/50121135
Light weight foam cabinets
As I am doing research on making light weight cabinets  I came across these videos.  Making cabinets out of foam board.  Looks pretty light and strong.
The walls are insulated so next will be wiring everything 120 AC and 12V from the ceiling front to back, insulating and skinning.  Either white or birch on ceiling with built in led lights.
First,  I must tackle the Fantastic Fan installation. This will be a pain removing the rubber sealant.   There are a few good videos on YouTube.  One guy says heat up a scraper with a torch and it comes off like butter.
These fans are a must.  We are not real big fans of air conditioning and would rather have a natural air flow.  We do not camp in major hot weather to need AC.  More of a need for heat then air living in Colorado.
Fan-Tastic Vent Roof Vent w/ 12V Fan – Manual Lift – 14-1/4″ x 14-1/4″ –  $128.00  https://www.etrailer.com/RV-Vents-and-Fans/Fantastic-Vent/FV801200.html
Blow are some good fantastic fan how to installation videos.
Electrical 30am box next to v nose driver side.  DC and controller in v nose top passenger side as well.
Plan to insulate floor from underneath.
One piece vinyl flooring inside . TrafficMASTER  Redwood Acacia 12 ft. Wide x Your Choice Length Residential Vinyl Sheet Covers 12.0 sq. ft. $10.24 /linear foot  – https://www.homedepot.com/p/TrafficMASTER-Redwood-Acacia-12-ft-Wide-x-Your-Choice-Length-Residential-Vinyl-Sheet-C9490406K564G14/300866841
Throw rugs on top of that.
Kitchen in the front V nose.   
Been looking for lightweight counters so I guess I am going with ¾ plywood sanded stained.  Any suggestions?
Was thinking a light metal backsplash like copper or a flooring product.  Like this vinyl tiles. https://www.homedepot.com/p/TrafficMASTER-Bodden-Bay-Terra-Cotta-12-in-Width-x-12-in-Length-Peel-and-Stick-Vinyl-Tile-26294061/206443738
Another idea Union Corrugating 2.16-ft x 8-ft Corrugated Steel Roof Panel – Lowes  https://www.lowes.com/pd/Union-Corrugating-2-16-ft-x-8-ft-Corrugated-Steel-Roof-Panel/3317582
Stove
Suburban Drop-In Cooktop 2 Burner Black –  https://www.adventurerv.net/suburban-dropin-cooktop-burner-black-p-2862.html or
Not sure which on to go with. 2 or 3 burner.  Last thing to order.
Suburban Drop-In 3-Burner Black Cooktop Stove https://www.adventurerv.net/suburban-dropin-3burner-black-cooktop-stove-p-2865.html
Refrigerator   Hisense 3.3 Cf Compact Refrigerator 46 lbs –  $99.00 This will be used as an Ice Chest refrigerator with two gallon frozen jugs ( last about three days) boon docking and  plugged in at campgrounds.  https://www.walmart.com/ip/Hisense-3-3-Cf-Compact-Refrigerator/811182219
Microwave -Mainstays 700W Output Microwave Oven 23 lbs – https://www.walmart.com/ip/Mainstays-700W-Output-Microwave-Oven/54189714?variantFieldId=actual_color
Leaning towards this cool sofa / bed .  60lbs   (between kitchen and bed drivers side) Not using the legs and building a storage box for it to sit on.  $174.00
To balance the weight thinking about placing batteries opposite passenger side with built in unit and folding up table under 30×30" window  about  60lbs with cabinet
Bed in the back across side to side, storage underneath.  About 12" from back galley.   (only works for short people and we are J ) I use this same bed in the back of my SUV and it is very comfortable.  Cr Sleep 4-inch Folding Memory Foam Mattress Full Size, Ventilated Mesh Cover, 54 x 74 inches $104.79 . Used this when I picked up the trailer and worked out great
Window Coverings – pull down blinds. Levolor Cream Room Darkening Cordless Vinyl Roller Shade (Common: 37-in; Actual: 36.5-in x 78-in) https://www.lowes.com/en_us/mylowes/purchases/purchase-details.html?orderId=547461242&masterOrderNumber=345200411   these can be cut to exact size at the Lowes store.   $10.97 – $21.97  Price is right.  Do not have the skills to make custom drapes so this is a great option.
Back Grill Galley with cooler, storage and small doorway in the back with awning.  (hoping this will balance the front weight a little too)
Back Awning
Timber Ridge Car Canopy Family Trailer Outdoor Tent for Beach Camping SUV 3-4 persons Sunshade  $85.99
Another one.
KingCamp COMPASS Awning Sun Shelter Auto Canopy Camper Trailer Tent Roof Top for Beach, SUV, MPV, Hatchback, Minivan, Sedan, Camping, Outdoor, Anti-uv Tents, Waterproof, Portable. $97.99
Front Canopy – On our Pop Up we had a great cabana we loved so that was hard to find at a good price so this is what I came up with.   Canopy and room.   For Door side of camper.   Hoping the height will work with the camper door.  $129.00
Two Door Canopy Room –  $99.00

Flame King (KT20MNT) Dual RV Propane Cylinder Rack for front mount.  $27.73
Also one of the last things will be adding  an outside exterior graphics image gallery on the white siding to make it pop.  And you know there will be a few lightning bolts.
That's the plan so far.  Hope you will follow along.

For more please subscribe, like and share.
Add us
iGallery: www.BoInsogna.com
Blog: www.ColoradoNatureArt.com
Facebook https://www.facebook.com/StrikingPhotographyByBo/
Twitter: https://twitter.com/bophoto
G+ : https://plus.google.com/+BoInsogna
Flikr: https://www.flickr.com/photos/thelightningman/
Instagram: @strikingphoto
Your support is very much appreciated!
DISCLOSURE:
This post contains affiliate links, which means that if you click a product link and buy anything from the merchant, we will receive a small commission fee. The price you pay remains the same, affiliate link or not.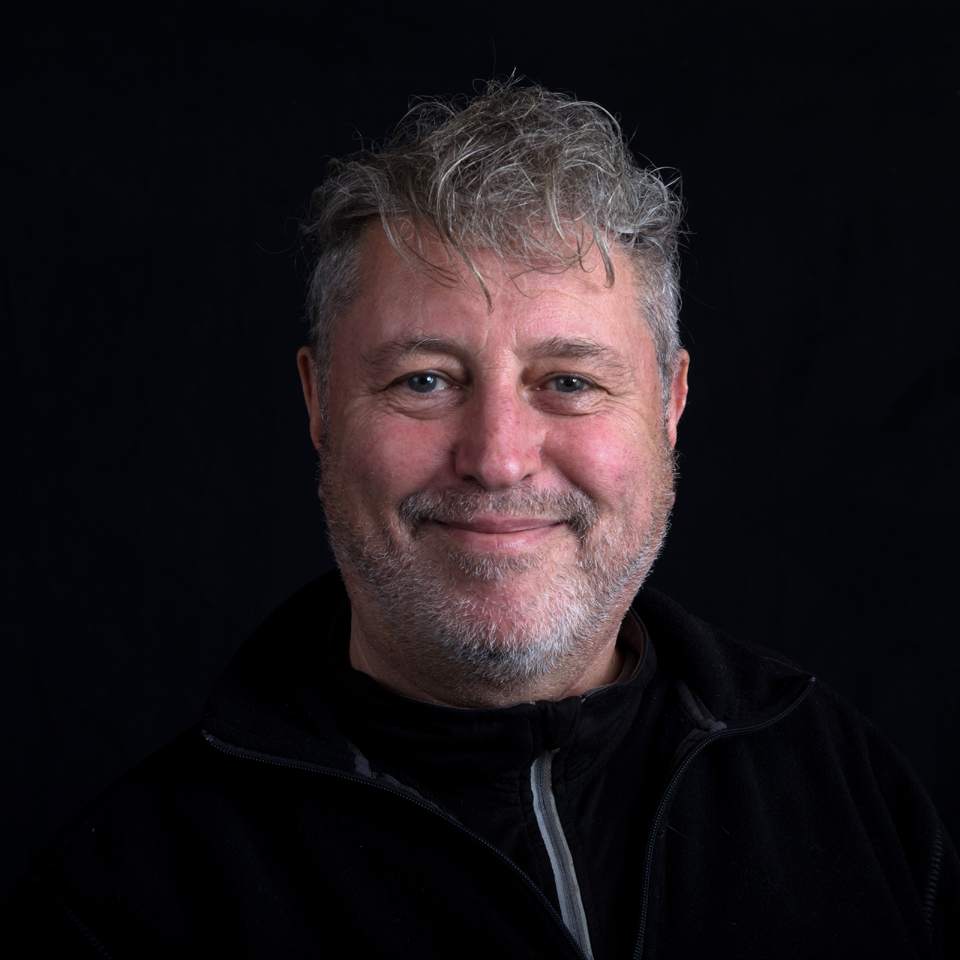 Bo is a professional photographer of over 30 years experience and his work has been published on television, magazines and newspapers worldwide.  Also a 30 year veteran of storm chasing specializing in lightning thunderstorms.