Flip Up Table Brackets – Folding Shelf Bracket
Video URL if player does not show. https://youtu.be/_PfiBEKUPn0
Check out these folding shelf brackets for fold-down work surfaces, that can be used for folding tables, collapsible desk, fold down wall table, folding shelf, rv table, wall mounted folding desk, fold down desk hinges , rv dinette table wall mount or fold down countertops.
As you can see there are many uses. These folding table brackets can hold from 100lbs to over 300lbs depending on your project.
Very easy to install and work with. Plan to add one more on the cargo trailer back barn doors doors. The best part of doing this cargo trailer conversion is now being in the tweaking phase. Adding the finishing touches.
Can't wait to build in the microwave, toaster oven and TV. Will have to wait till the funds are there first.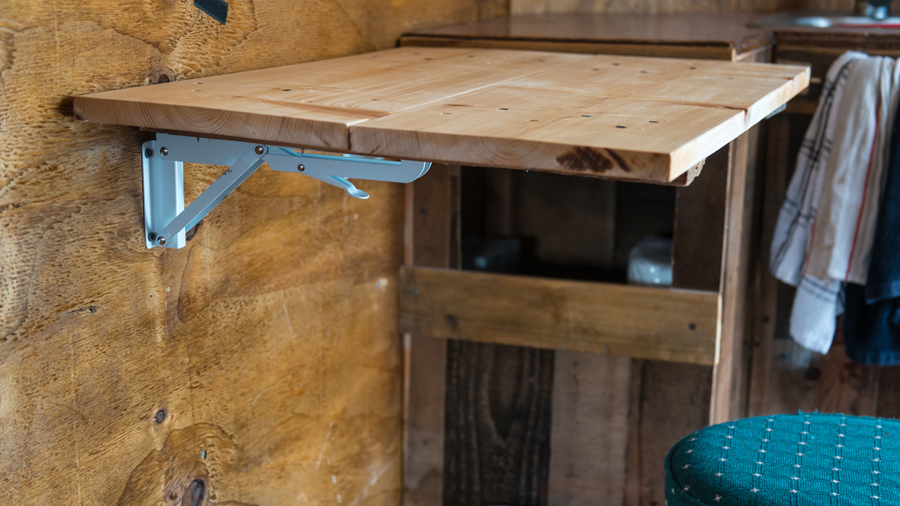 How I used the fold down brackets
I used some scrap pine wood and screws I had on hand to do this project. Tried to screw the boards together from the bottom but the tips of the screws came through slightly. Did not want to go to the store to buy smaller ones, so I screwed it together from the top down.
For my purpose this will work fine. It may get changed out down the road.
That is the beautiful of doing things yourself, if you don't like it you can CHANGE IT!
The fold down table brackets or flip up table brackets are very sturdy and I think the wood on the side wall would give out before the brackets do.
If using for a bench or such I would make sure they are anchored into a side beam.
Thinking about doing a small fold down table on the back of the trailer barn doors.
I have some pallet wood that I may use. Love using what I have around the house.
These are an easy solution. If I can do this, you can do this!
Many many uses for small spaces or space savings!
Here are the links below of some different brackets for different uses.
If you have any questions or comments please leave them in the comment box and please subscribe to my channel. Thank you!
Check out our DIY Cargo Trailer Conversion Parts and Resources List (months and months of research) https://strikingphotography.net/diy-cargo-trailer-conversion-parts-and-resources-list/
16 INCH Folding Shelf Brackets – Heavy Duty Metal Collapsible Shelf Bracket for Bench Table, Shelf Hinge Wall Mounted Space Saving DIY Bracket, Max Load: 280 lb – Black (2 PCS) $21.95 – https://amzn.to/2Uy4rDl
Wall Mounted Folding Shelf Brackets, Rolled Steel Triangle Table Bench Folding Shelf Bracket with Short Release Arm, Max Load: 132lb #81223 (2 Pack) $11.99 – https://amzn.to/2O1VXly
2 Pack Folding Shelf Bracket Bench Table Support Wall Mounted Iron Triangle Collapsible Shelf Bracket (Black) 6 inch $11.99 – https://amzn.to/2NXyBxn
2Pcs Folding Shelf Brackets Folding Steel Shelf Bracket,Table Folding Shelf Bench Table Brackets Heavy Duty with Mounting Screws Short Release Arm Bench,12″,Max Load 300lb $13.99 – https://amzn.to/2NWS2pW
2 Pcs Table Folding Bracket, QIUYE Black Paint Collapsible Shelf Bracket Long Release Space Support for Shelf Bench Table with Mounting Screws(11.8″ X 5.0″) 110 lbs $18.99 – https://amzn.to/2VVq0y3
2 PCS Heavy Duty Polished 304 Stainless Steel Folding Shelf Bench Table Folding Shelf or Bracket, Max Load: 550lb/250kg, Short Release Arm $18.75 https://amzn.to/2NXbnHC
Flipe Up Table Brackets 12", Max Load: 330lb Heavy Duty Stainless Steel Collapsible Shelf Bracket for Table Work Bench, Space Saving DIY Bracket, Pack of 2 $25.99 – https://amzn.to/2F7LXEx
Thanks for Watching
For more please subscribe, like and share.
Your support is very much appreciated!
Bo
Add us
Portfolio: https://www.JamesInsogna.com
Blog: http://www.ColoradoNatureArt.com
Photography Blog: http://www.strikingphotography.net
Facebook: https://www.facebook.com/StrikingPhotographyByBo
Twitter: https://twitter.com/bophoto
Flikr: https://www.flickr.com/photos/thelightningman
Instagram: @strikingphoto
Recent Post
Bo is a professional photographer of over 30 years experience and his work has been published on television, magazines and newspapers worldwide.  Also a 30 year veteran of storm chasing specializing in lightning thunderstorms.