Hottest eBike In America Under $1000 and I LOVE it! Lectric XP
Link to video above if player does not show. https://youtu.be/Rbm6QbQ6aCk
Lectric XP
Well I finally made the move into an eBike. And man am I glad I did! Talk about fun!
I choose the Lectric Xp because of the price and value. $899 Plus Free shipping delivered to your door.
Includes a 500w motor with up to over 800w output. Comes standard with disk brakes, fenders, back rack, front and rear lights.
There are 5 levels of pedal assist. Top speed is 20mph as a class 2. Can go up to 28mph if you change from class 2 to class 3 in the settings. Goes up to 20mph with throttle only.
Has a range of 25-50+ Miles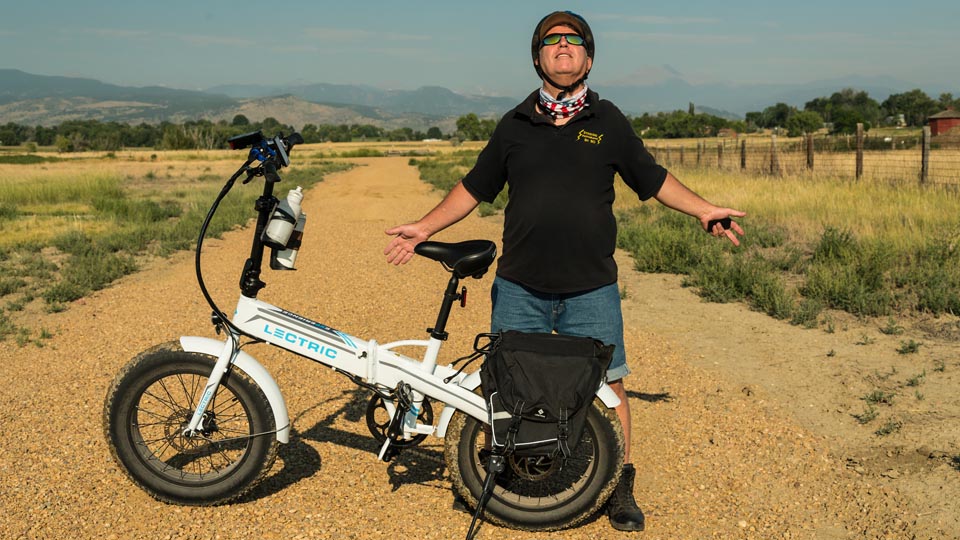 The bike is powered by a high performance 10.4ah, 48v LG lithium-ion battery to provide you a full day of riding.
It arrives fully assembled. YES!
The Big Seller
The big seller for me is it is fold-able and I love the fat tires.
37″x18″x27″ Folded dimensions brings the bike down to a fraction of its size so you can take it with you everywhere. I like the fact that I don't need a bike rack and it is secured locked up in the SUV.
Total weight of bike plus battery is 63 lbs. It is not light.
Comes in two colors Black or White. The black bike is beautiful but I went with white because of visibility. It is all about safety 🙂 There is also a step through model.
Back in the 1980's
Funny back in the eighties I was in pretty good shape and telemarked skied in the winter 3 times a week.
In the summer I would bike to work and all over Boulder to keep my legs in shape.
One day I got this great idea to get a touring bicycle with saddle bags so I could cruise around. When I started pricing them they were well over $900 and then some. It is all about weight and keeping it light.
Well I thought for that kind of money I could buy a motorcycle. Soooo, that's what I ended up doing. I got a 750 Honda with a fairing on front, used from a dealer for $800. Went to Yellowstone and toured all over the place. Had a ball.
Fast Forward
Well fast forward to now. Regular bicycles are still not cheap for a good one. So for $899 with free shipping this is a no brainer. My other bike was falling apart so this was a nice upgrade.
And talk about fun to ride! You can now go up a hill at 20MPH instead of 2mph. Makes big hills go by quicker and a lot more fun.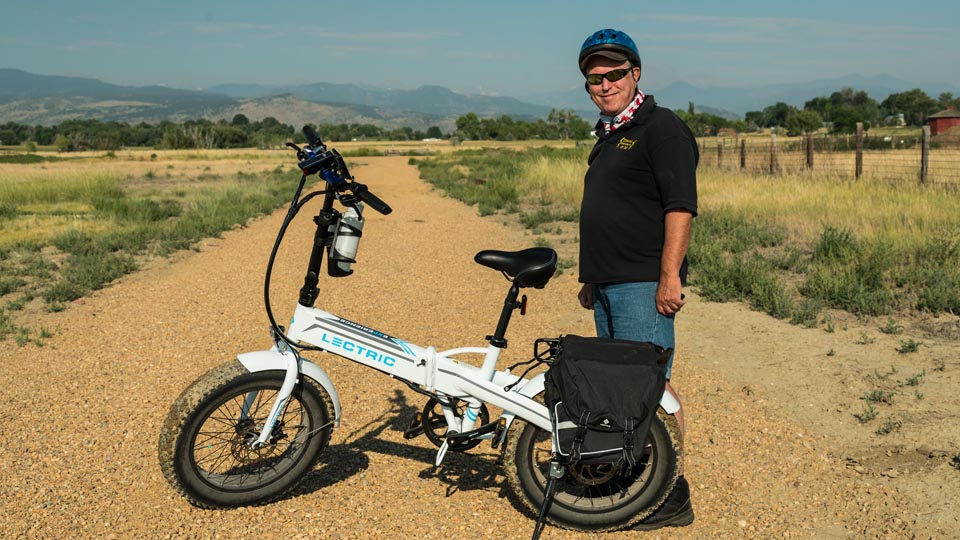 With the fat tires this goes really well in grass, dirt and sand.
Full disclosure
BTW, I bought this Bike and accessories with my own money and I am not sponsored in any way. I do not earn any commissions from Lectric. (I am an Amazon associate).
That's one of the things I like most is they sell direct to the public.
Customer service has been great too. They are based out of Phoenix, two childhood friends Robby and Levi started the business and what a great product and marketing they have done.
They got ten prototypes and sent them out to RVers YouTube Channels in hopes to get some exposure and they might sell a couple hundred bikes in the summer. Lectric ended up selling 100 a day and building a 13 million dollar company in a little over a year. Impressive.
I think if they keep it simple in the beginning, work out the bugs and get the fulfillment down, this company is going to be extremely successful and you are going to see these bikes everywhere plus some cool new ones in the future.
They are a little flashy and you do get some looks. But I think that is great branding. There are a lot of other ebikes out there that are low key if that bothers you.
eBike Safety is Number One!
If you do buy one be very careful when starting out.
Read the manual front to back. ( not that big and easy to read)
When you first get on it ride with the bike off or in pedal assist 0. This way you can get used to the size, weight and your balance. You can also check your seat and handle bar heights too. Find an open road or parking lot to practice in.
Then ride and start using the pedal assist 1 and 2, they are mellow. 3 -5 is like going into warp drive. Also use the throttle to get used to the power.
I use the throttle as a leg up for getting on. I also use it when doing slow hard turning and starting out to get up speed if I am at a light or stop sign.
When you are getting off the bike, put it in pedal assist 0 or turn the bike off. It is easy to hit the throttle when getting off sending the bike forward. Always keep a hand on a brake. This cuts the motor as well.
This has been a great bike to ride all over Longmont Colorado. Longmont is about 5 miles wide and 10 miles long. Can now do it all in a day.
Looking forward to taking it into LOBO trail from Longmont to Boulder. Also cruising around the city of Boulder and up in the mountains. I can now goes places I could never go and still have energy left. AMAZING!
Here is a link to Lectric eBikes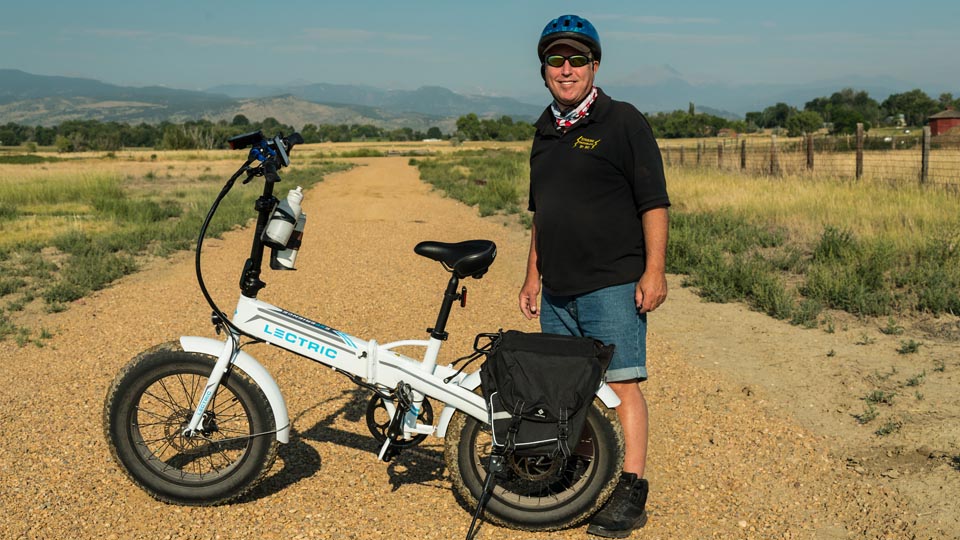 The fun part is accessorizing the eBike
Awesome Headlight, Horn and Solar Power-Bank – can charge your phone too.
I found a cool solar rechargeable BRIGHT head light that acts as a batter bank as well. It also comes with a rear light with 4 mode functions. Also has a loud horn. A must it has come in so handy so far. Bike Light Set and Horn Solar Powered USB Rechargeable 4 Mode Bicycle Headlight Taillight Combinations Front Back Light & Bell for Cycling Riding Safety Warning Rear Tail Light LED Speaker. https://amzn.to/2Y7Qfow
Handle Bar Extender – comes in Black, Blue and Red – https://amzn.to/3gBnRBe
Bicycle Mirror – I tried a few and the key is it to be long enough to the side so you are not in the view. This works GREAT! Love it! – https://amzn.to/2ELorz6
Two bottle holders these seem to hold well and expand for bigger bottles.  Love it cause I can bring my water and coffee. https://amzn.to/2Y4ZyFF
Cell Phone Mount/Holder for Bike Handlebars (Blue) – little flimsy but works well and has a lifetime guarantee https://amzn.to/3kVfPXy
Here is another I want to get as a back up
Bike Phone Mount, Secure Lock & Full Protection Bicycle Holder https://amzn.to/2YFmV8S
Water Resistant Bike Top Tube Bag Bicycle Frame Dual Panniers with Detachable Phone Bag.   I use this with a solar battery bank for my camera batteries.    I can charge using the side pockets plugged into the solar power bank. https://amzn.to/3163Dv4
Solar Charger, I use in the above bag 20000mAh Solar Power Bank – https://amzn.to/34BFXB2
Bluetooth Stereo Phone headset: Fold-able Bluetooth Headphones, AMORNO Wireless Neckband Sports Headset with Retractable Earbuds, Sweatproof Noise Cancelling Stereo Earphones with Mic (Black) https://amzn.to/2CMJIrG

I have not held a phone to my head in over ten years. I can not talk on the phone without this.
Equipment I used to make this video;
GoPro Hero 8 – https://amzn.to/2CB1LkF
Sony A7r II – https://amzn.to/347A9ie
Thanks for Watching
For more please subscribe, like and share.
Your support is very much appreciated!
Recent Post
Camera Upgrade – GoPro Hero 8 – Bicycle Trails – McIntosh Lake Longmont CO
Inexpensive Easy To Install BackUp Camera
1st Time Out June Covid 2020 Cargo Trailer Conversion Cabin On Wheels
DISCLOSURE: This post may contains affiliate links, which means that if you click a product link and buy anything from the merchant, we will receive a small commission fee. The price you pay remains the same, affiliate link or not. Thank you!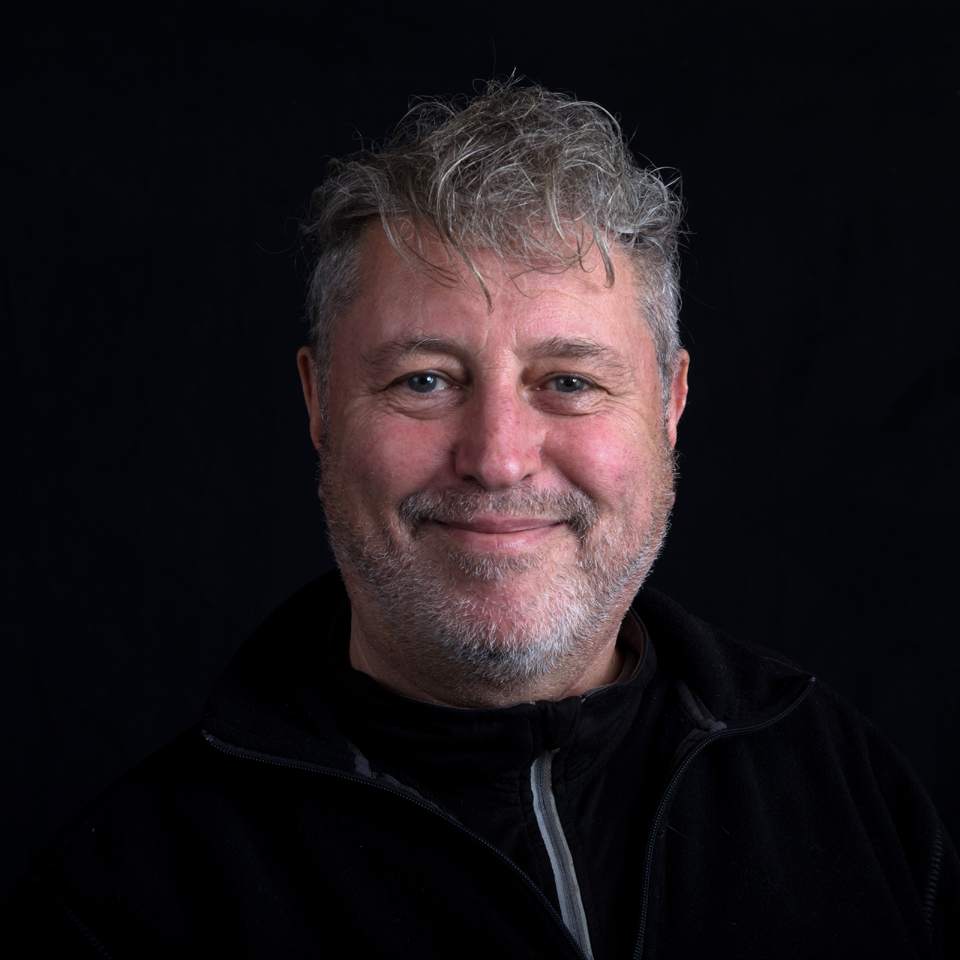 Bo is a professional photographer of over 30 years experience and his work has been published on television, magazines and newspapers worldwide.  Also a 30 year veteran of storm chasing specializing in lightning thunderstorms.