Lectric XP eBike Loss Of Power In Colorado Back-Country at 9600 ft Oh No!
Here is the URL to the Video above if the player does not show https://youtu.be/hbLN5oUov5U
Do you have the Lectric XP? Are you thinking of buying one? Please leave a comment below. Any questions let me know? Thanks!
Got a chance to take the Lectric XP eBike up to the Colorado High Country above Rollinsville Colorado. You have to watch the video above to see the full story.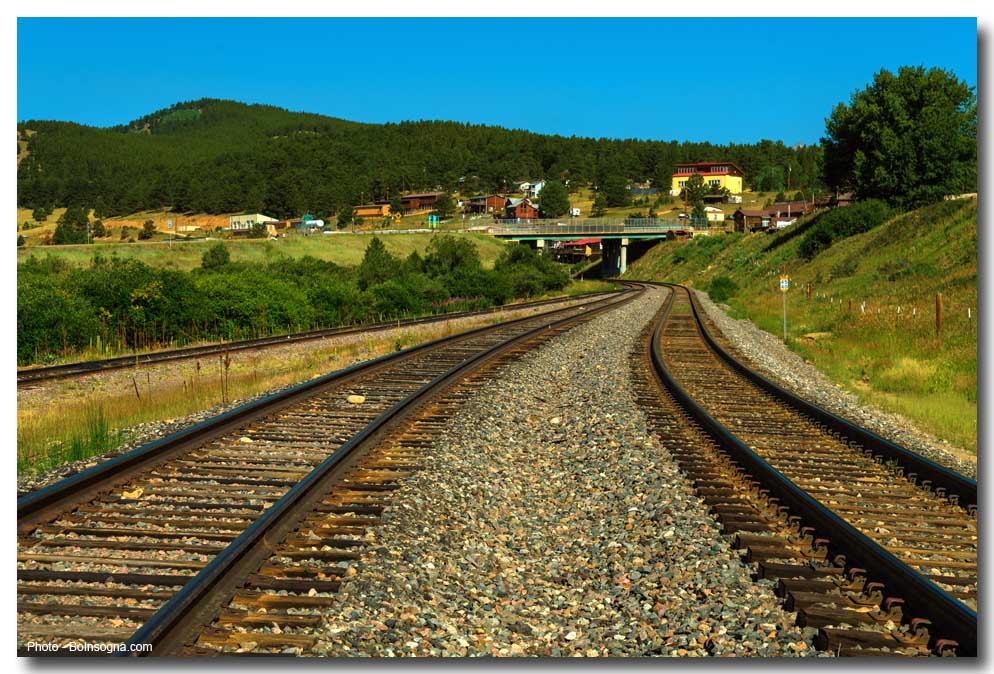 Lot of fun cruising around this area, this eBike is a amazing. Easy peddling for some nice speeds and a great work out too.
Boldly go where you have never gone before
You will be able to go places you never thought you could if you decide to make the eBike jump. You do need to remember these are still bicycles and you do have to pedal, they are not mopeds or motorcycles.
The pedal assist is like someone pushing you up the hill. Pedal assist 3 to 5 is like having warp drive. I love not being the slow person anymore and being able to keep up and then some. Also able to pass people too, but it is just a matter of time when everyone has one and I am in the back of the line again 🙂 .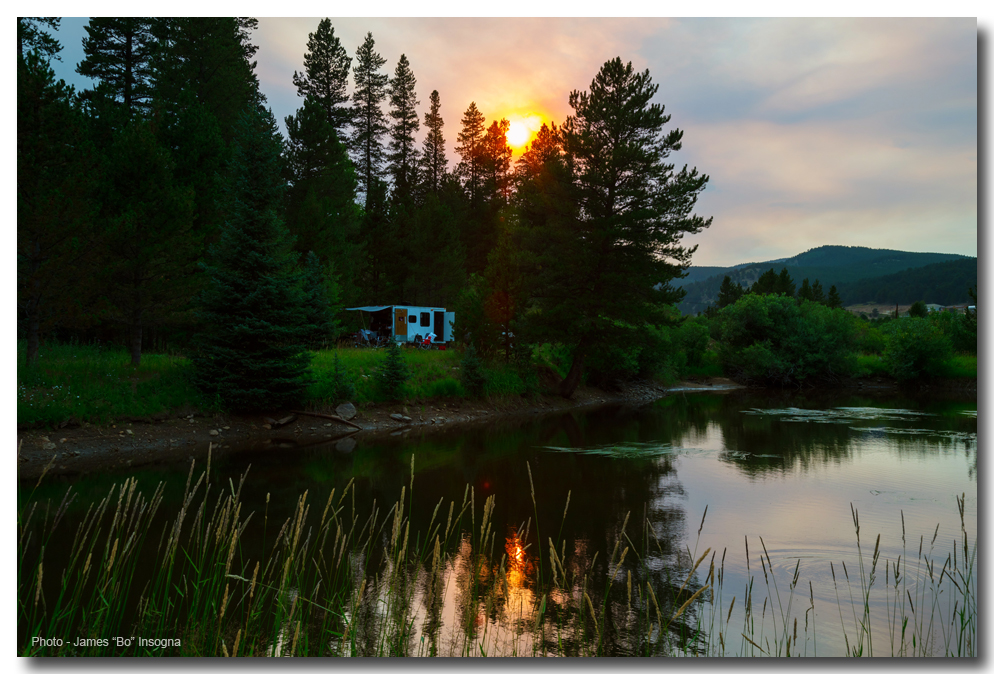 Lectric XP Loss of Power
When Heading up a steep part of the trip I loss Power a couple times. The Speedometer went out as well and then came back on.
I may have overloaded the motor I am not sure, But the bike did what it should do. Cooled down, came back on and away we went.
In communicating with Lectric Support they confirmed that the motor does have a safety built into it for overheating and to protect the motor.
Moffat Road
Also took a ride down the Moffat Road and what a great ride that is. Five miles in and Five miles out with views to make you smile. The road ends at the Moffat Tunnel that goes through the Colorado Continental Divide. Something to see when a train goes in or out. That is where the road ends with the trail head of an amazing hiking trail. There is also a cool little town of Tolland at about 1/2 way there.
Rollinsville Colorado
The Stage Stop in Rollinsville has been sold and is under construction. Look for good things to come from this historical site. Would be a great starting point. Also check out the Mercantile Store down the short main street for some cool stuff.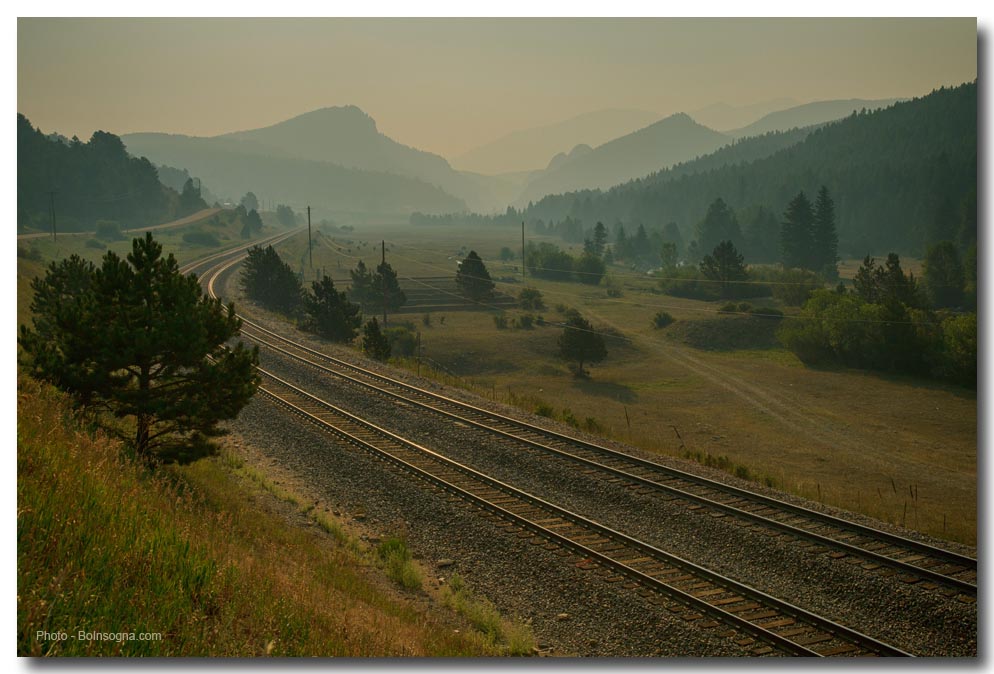 ODO / Speedometer Out
Working on fixing the ODO problem and will post a video when it is fixed. Lucky for me the bike still works great and having fun, accept I can't tell how fast and how many miles of fun I am having.
First Ride and Safety
Safety is number one, so if you get on one please take it low and slow in the beginning. Ride it without power or on pedal assist zero.
This way you can get your seat and handle bars set to the right height. Then next you can get used to the bike and your balance. Make some turns and get used to that without falling over LOL. Just kidding, but the fat tires are a little different from a regular bike. I love them, the bike is built like a tank. FYI, It weights 63 LBS.
After that you can start working the throttle and trying out the pedal assist 1-5. Just make sure you start out on some open road or a parking lot and wear a helmet.
Here is a GREAT Video from Lectric eBikes to prep you for your first ride. https://youtu.be/U-jcCxcfDp4
Looks like there will lots more great instructional videos coming in the future,
Dismounting the eBike
Also when dismounting the bike, turn it off or make sure you are in pedal assist zero. It is easy to hit the throttle when you are getting off sending the bike forward.
Love love love the bike and believe you are going to see the Lectric XP everywhere and they are going to be like the Razor scooter first hit the market back in the 90's.
This bike is so cool it even has cruise control!
Only works with throttle. Set your speed with the throttle, then hit the down arrow and it is set. When you hit the brake it shuts off.
Since the bike is a little heavier than a regular bike it also has a walk mode. If you hold down the "down arrow" the bike will move at 2 mph. And again if you hit the brake it shuts off.
Always keep your hand on a brake because they have motor inhibitors that shut the motor off when you press it.
Best Value eBike worth every penny
I still believe that this Lectric XP eBike at $899 is the best value for the money and worth every single penny and more.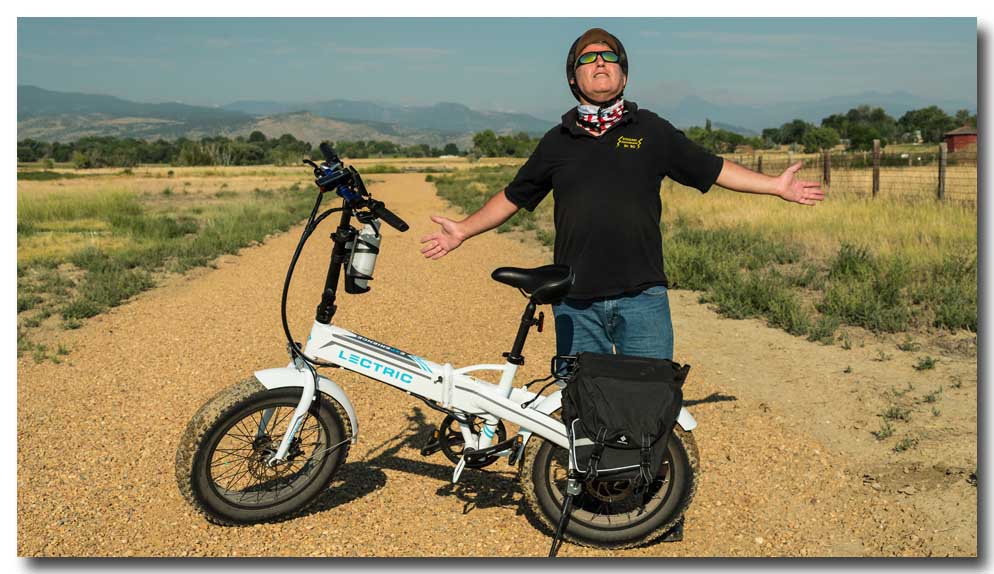 Not sponsored bought the bike on my own.
And just so you know I am not sponsored by Lectric XP eBikes and I bought the bike with my own money. It is a dream bike for me, has everything I need or want for the kind of riding I do.
Fenders, back rack with saddle bags, class two at 23 MPH or class three at 28mph. Front and back lights. 500 watt motor with 800 watt peak. 7 speed and 5 pedal assist. 25 to 50 mile range.
FOLD-ABLE!
Fits in your trunk or back seat. So no expensive bike rack if you do not want to spend the money. I love that so you do not have to worry about theft too if you have to go into a store or something when traveling. Again it weighs 63 lbs, so you will need to be able to lift that weight to get into your vehicle. Was not a problem for me. There are some bike racks that will help but they are pricey because they have to handle the weight and fat tires.
Bike Totes
There are some totes you can get at Lowes or Depot to put your bike in. I have not tried this yet but plan to get one.
For two reasons.
ONE, Might make it easier to life the bike into the SUV with handles.
Two, to keep tire dirt in the tote and not SUV.
Will be exploring this more.
Here is what I found that might work at lowes.
Centrex Rugged Tote 50-Gallon (200-Quart) Gray Tote with Standard Snap Lid
CRAFTSMAN 40-Gallon (160-Quart) Black Tote with Latching Lid
COMMANDER 64-Gallon (256-Quart) Black and Yellow Tote with Latching Lid with wheels
This bike is fantastic on the bike trails and around town.
Would be a great commuter bike too. Not sure I would do any hard core mountain trails with it but that's not my level anymore and at my age I take a lot less chances.
We live in a town ( Longmont Colorado, Boulder County) of around 95K. Ten miles long and about five or so miles wide. This bike gets me anywhere I want in town and then some. Plus it does not wear you out. Hills are fast and fun.
I really believe these ebikes will get better over time with longer battery life and longer range and updates. Very cool and exciting stuff.
Lectic XP Web Site
Here is the Lectric XP web site for more info. https://lectricebikes.com
Stay tuned…… Check out some must have electric bike accessories below.
Thanks for Watching

For more please subscribe, like and share.
Your support is very much appreciated!
The Fun part is accessorizing and personalizing your eBike
Awesome eBike Headlight, Horn and Solar power-bank
I found a cool solar rechargeable BRIGHT head light that acts as a batter bank as well. You can even charge your phone a few times with this. It also comes with a rear light with 4 mode functions. Also has a loud horn. A must! It has come in very handy so far.
Bike Light Set and Horn Solar Powered USB Rechargeable 4 Mode Bicycle Headlight Taillight Combinations Front Back Light & Bell for Cycling Riding Safety Warning Rear Tail Light LED Speaker. https://amzn.to/2Y7Qfow
Bike Mirror
Bicycle Mirror -I tried a few and the key is to be long enough to the side so you are not in the view. This works GREAT! Love it! – https://amzn.to/2ELorz6
Handlebar Extender
Bike Handlebar Extender, Aluminum Alloy Double Handlebar Extension– Available in Blue, Black and Red. https://amzn.to/3hq4L2w
SEATS – More padded comfortable bike seats.
Sunlite Cloud-9 Bicycle Suspension Cruiser Saddle, Cruiser Gel, Tri-color Black https://amzn.to/327zeM4
Bikeroo Most Comfortable Bike Seat for Seniors – Extra Wide and Padded Bicycle Saddle for Men and Women Comfort – Universal Bike Seat Replacement https://amzn.to/2Yq14SR
Bicycle Cushion, Bicycle Saddle, Shock-Absorbing Spring Reflective Strip, Thickened Memory Foam, Waterproof Replacement Leather Bicycle seat Cushion, for Outsole Men and Women Mountain Bikes https://amzn.to/31iapxR
Bluetooth Cell Phone Headset
Bluetooth Stereo Phone headset: Fold-able Bluetooth Headphones, AMORNO Wireless Neckband Sports Headset with Retractable Earbuds, Sweatproof Noise Cancelling Stereo Earphones with Mic (Black) https://amzn.to/2CMJIrG
I have not held a phone to my head in over ten years. I can not talk on the phone without this.
2 Water Bottle Holders
I also got two bottle holders and these seem to hold well and expand for bigger bottles. Love it cause I can bring my water and coffee. https://amzn.to/2Y4ZyFF
Phone Holder
Cell Phone Mount/Holder for Bike Handlebars (Blue) https://amzn.to/3kVfPXy
Little flimsy but works well. Also has a lifetime guarantee.
Here is another on my list to get. I like having back ups.
Bike Phone Mount, Secure Lock & Full Protection Bicycle Holder https://amzn.to/2YFmV8S
Top Tube Bag Bicycle Frame Dual Pannier
Water Resistant Bike Top Tube Bag Bicycle Frame Dual Panniers with Detachable Phone Bag. I use this with a solar battery bank below for my camera batteries. I can charge using the side pockets on the side plugged into the solar power bank. https://amzn.to/3163Dv4
Solar Charger, 20000mAh Solar Power Bank – https://amzn.to/34BFXB2
Check out Bo's Fine Art Photography Gallery. A lightning Storm chaser for over 30 years.
Bo's Fine Art Photography iGallery, Wall Art and Gifts:
https://www.james-insogna.pixels.com or shortcut http://www.MrBo.com
Window View Art
Equipment I used to make this video;
GoPro Hero 8 – https://amzn.to/2CB1LkF
Sony A7r II – https://amzn.to/347A9ie
Recent Post
Hottest eBike In America Under $1000 and I LOVE it! Lectric XP
Camera Upgrade – GoPro Hero 8 – Bicycle Trails – McIntosh Lake Longmont CO
Inexpensive Easy To Install BackUp Camera
1st Time Out June Covid 2020 Cargo Trailer Conversion Cabin On Wheels
DISCLOSURE:This post may contains affiliate links, which means that if you click a product link and buy anything from the merchant, we will receive a small commission fee. The price you pay remains the same, affiliate link or not. Thank you!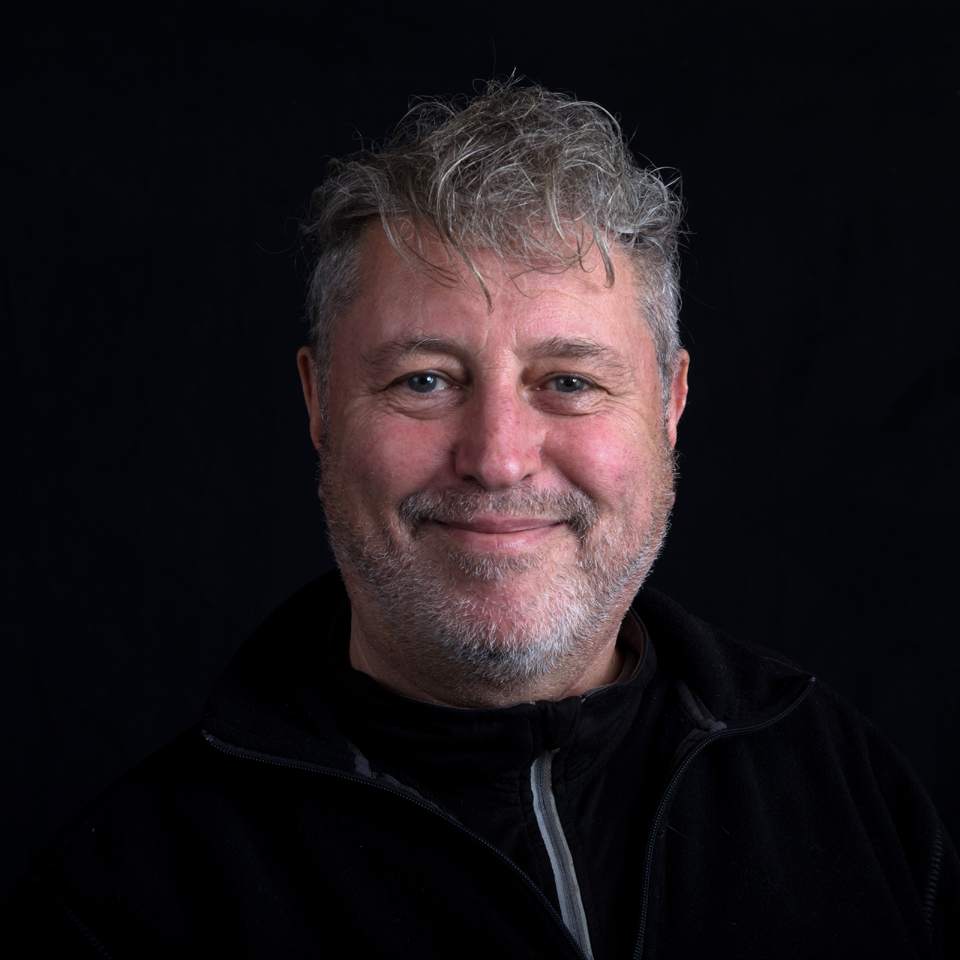 Bo is a professional photographer of over 30 years experience and his work has been published on television, magazines and newspapers worldwide.  Also a 30 year veteran of storm chasing specializing in lightning thunderstorms.