6X14 Cargo Trailer Conversion to Cabin Camper 4 Year Review Video
Link to camper video above, CLICK HERE
6 X 14 Cargo Trailer to Cabin Camper
4 Year Review of "Rolling Thunder " Cabin on Wheels, Gourmet Kitchen in the front, Cantina in the rear.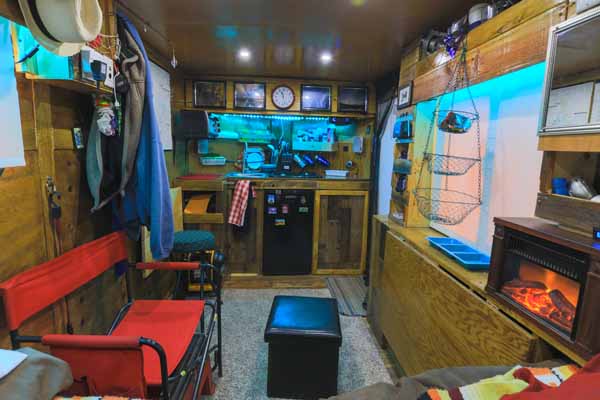 We love our mini fireplace. It can be used with or with-out the heat on.
But can only be used when we are hooked to shore power. There is a heater buddy in the front for boon docking that runs on propane.
Mr Heater buddies are great but the key is to get the filter and to cover it when not in use.
If you do this your will get many many years out of it.
It's an inexpensive way to go and they are safe indoors. It is always a good idea to crack a window.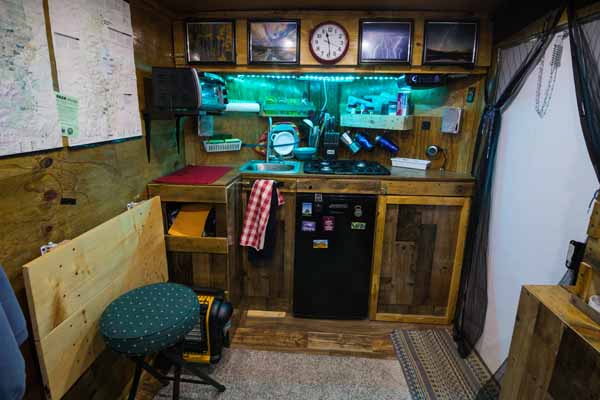 It is all about the weight
It is all about the weight in the cargo trailer and trying to keep it under 3000 lbs.
I started out wanting to build a Woody Teardrop.
Came to realize that it would be too small for our needs. So We decided a cargo trailer would be perfect.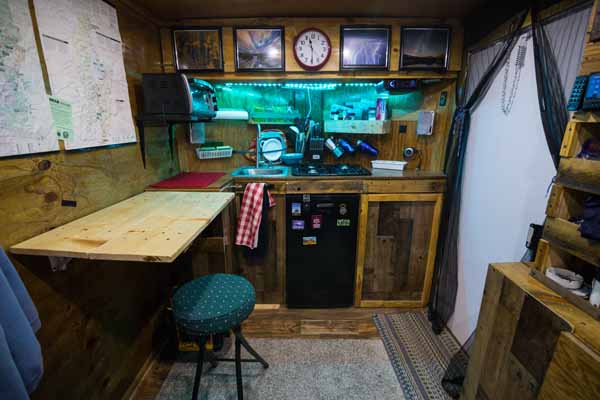 In the video above I talk about what I would do different and what I would change.
Overall this has been a great cargo trailer conversion that we look forward to this coming season.
Link to camper video above, CLICK HERE
Like I said it is all about the weight and being able to pull it with an SUV.
This 6X14 was 1500 lbs empty. I am guessing loaded we are about 3000lbs.
My big concern right now is tongue weight and how low the trailer might be on the 4Runner.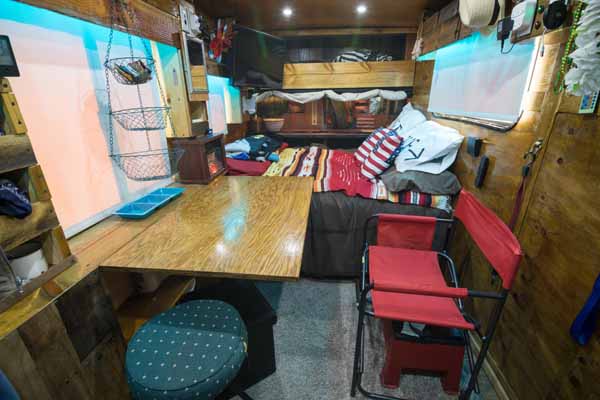 This flip up dining table is fantastic using an upside down piece of wood in a triangle on a hinge to swing in and out.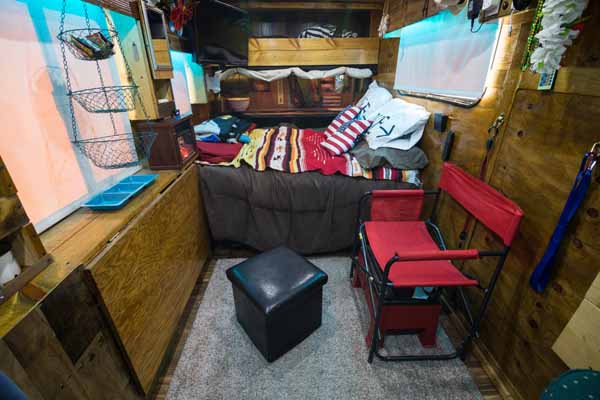 To keep things light there are no water tanks just 2 five gallon water cooler jugs, one for fresh and one for gray. Plus we keep another full water jug in the back for a backup.
Would like to upgrade these to a 7 gallon Jug.
IF we were going to change anything it would be the bed. Making it go long ways instead of across.
But this set up works for us and I would have to change a lot of things to make it work. So for now it is going to stay the same.
The 3 burner Suburban Stove is fantastic but a two burner would be fine, but like the extra stove space.
If I could change something here it would be a hood with a vent. Maybe later down the road but not this year,
We are also going to add a 3rd battery bringing us to 150 usable amp hours.
Also will be adding some graphics to the outside.
For the full details, please watch the video above.
Bottom line it we LOVE our cabin on wheels!
It is so much fun every year doing something to make it better or update things.
Cargo Trailer Conversion Build Part Lists and Resources:
Check out my Cargo Trailer Conversion Build Part Lists and Resources: https://strikingphotography.net/diy-cargo-trailer-conversion-parts-and-resources-list/
Thanks for Watching For more please subscribe, like and share. Your support is very much appreciated! Need Art or gift ideas?
Check out… Bo's Art Gallery: https://James-Insogna.pixels.com​ https://www.ColoradoNatureArt.com​ https://www.MrBo.com​
Stay Connected Subscribe to our E-Mail List https://james-insogna.pixels.com/subs…​
Follow me…. Facebook https://www.facebook.com/StrikingPhot…​
Instagram: @strikingphoto
Twitter @bophoto
Bo's Fine Art Photography iGallery, Wall Art and Gifts:
WALL ART GALLERY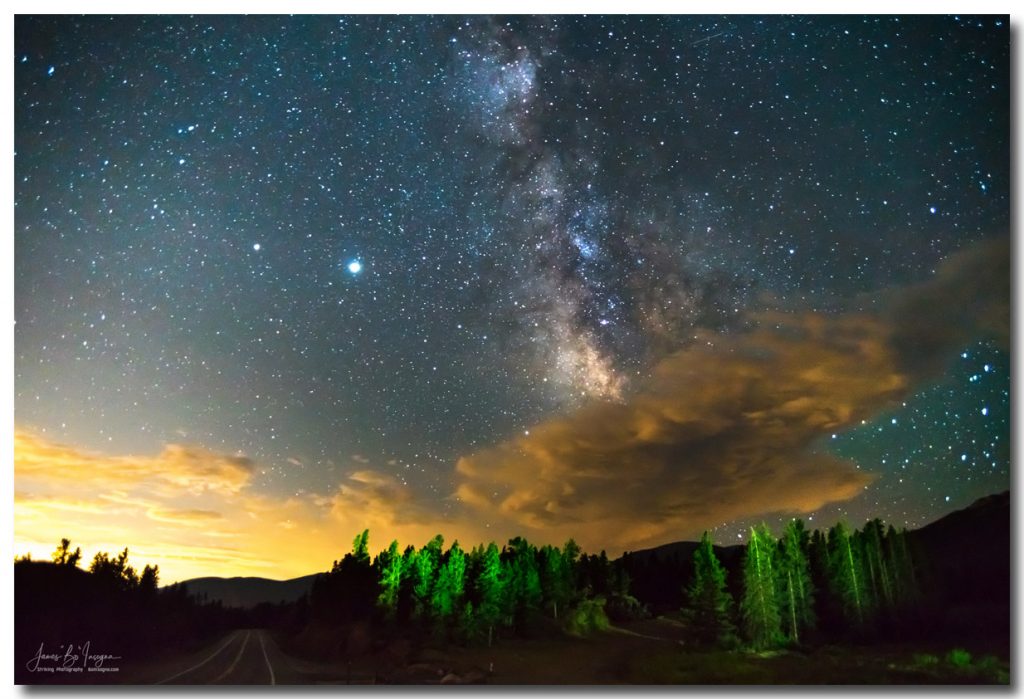 https://www.james-insogna.pixels.com
or shortcut http://www.MrBo.com
Window View Art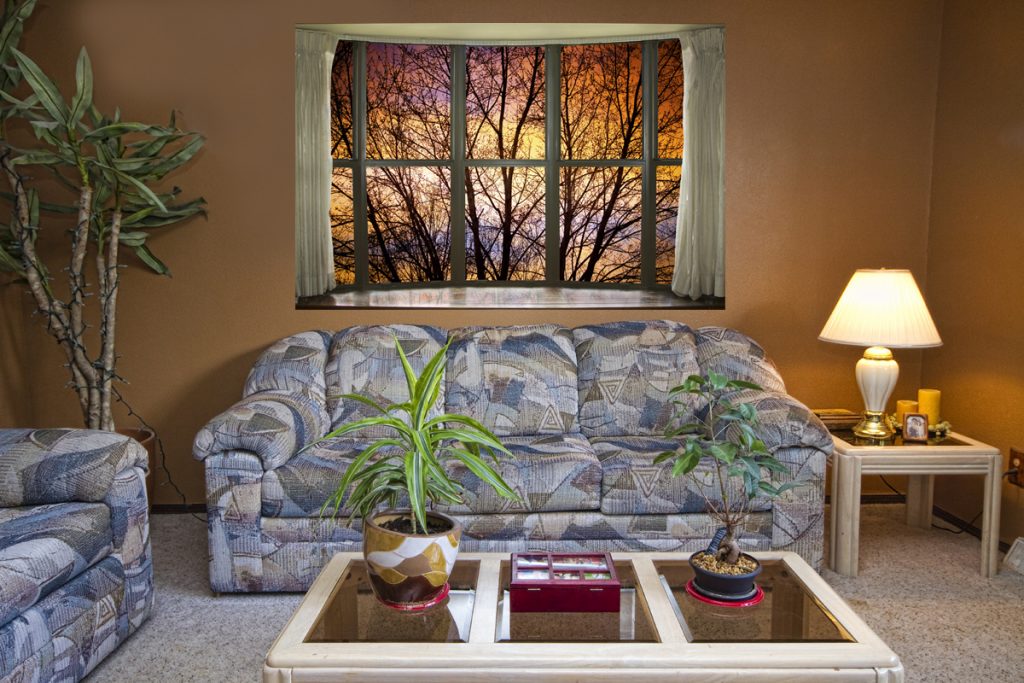 Equipment I used to make this video;
GoPro Hero 8 – https://amzn.to/2CB1LkF
Sony A7r II – https://amzn.to/347A9ie
Recent Post
Power Pack Jump Starter + 4 Vital Emergency Items For Your Car
Flat Tire on My Fat Tire Lectic XP eBike Slime-Me
Lectric XP Ride at Beautiful Boulder Reservoir Colorado
Lectric XP Speedometer ODO Problem Final Fix
Power Outage ODO Speedometer Loss Lectric XP Fix?
Lectric XP eBike Loss Of Power In Colorado Back-Country at 9600 ft Oh No!
Hottest eBike In America Under $1000 and I LOVE it! Lectric XP
Camera Upgrade – GoPro Hero 8 – Bicycle Trails – McIntosh Lake Longmont CO
Inexpensive Easy To Install BackUp Camera
1st Time Out June Covid 2020 Cargo Trailer Conversion Cabin On Wheels
Lectric XP eBike Loss Of Power In Colorado Back-Country at 9600 ft Oh No!
Hottest eBike In America Under $1000 and I LOVE it! Lectric XP
DISCLOSURE: This post contains affiliate links, which means that if you click a product link and buy anything from the merchant, we will receive a small commission fee. The price you pay remains the same, affiliate link or not. Thank you!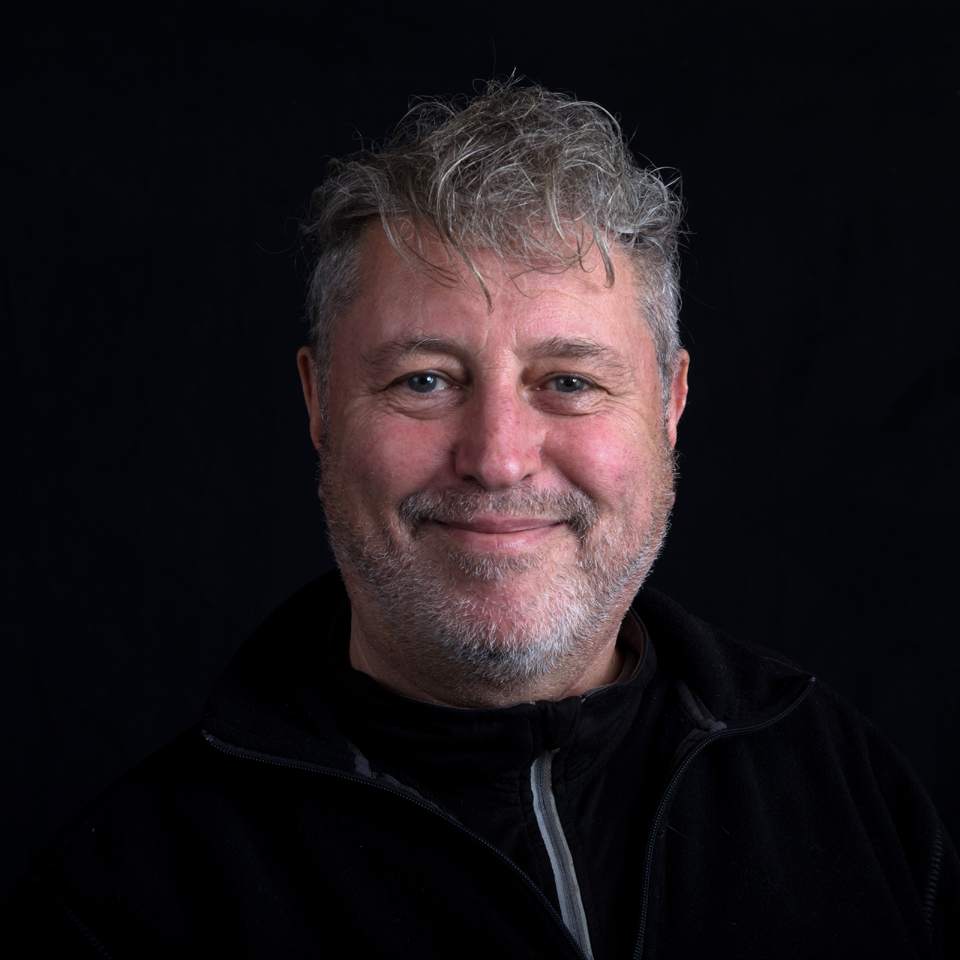 Bo is a professional photographer of over 30 years experience and his work has been published on television, magazines and newspapers worldwide.  Also a 30 year veteran of storm chasing specializing in lightning thunderstorms.