The Moment Of Truth! Can We Pull This! Cargo Trailer Tiny House Conversion
The Moment of truth! Can we pull this! Did our math work? How low will she go? Will we be yard camping for awhile or get this on the road with our 2005 Santa Fe SUV?
Here is an update on our 6×14 Cargo Trailer Camper RV Tiny House Conversion, "Rolling Thunder", cabin on wheels.
Watch the video below for a complete update.  Video URL:  https://youtu.be/SqErN81UJ0Q
This was the day that worried me the most.  So much planning and thought went into this project to make sure we could pull this with our v6 SUV  Hyundai Santa Fe.   But now the moment of truth has arrived.
The trailer weight came in at a little over 1500lbs and we added about 600lbs.   The towing capacity on the SUV is 2200 – 3300 lbs.  So that puts us right in there.
The main reason we went with a cargo trailer conversion was cost and weight.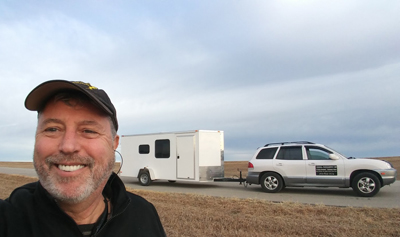 Everything went smooth on the test drive and the hitch did not bottom out on the road.    Very very happy so far how it handled.
The big test will be getting up one of the Colorado Canyons.   First trip is out east so it will be mostly flat driving.
In a couple weeks the plan is to go up to the high country.  So that will be the big test, hopefully the transmission can handle it.
Still have  some fine tuning and lots of graphics to add.
Hope this will help if you are thinking about doing a cargo trailer camper rv conversion like this.
As the beat goes on…
Regards,
Bo Insogna
Bo is a professional photographer of over 30 years experience and his work has been published on television, magazines and newspapers worldwide.  Also a 30 year veteran of storm chasing specializing in lightning thunderstorms.